buero butter x Studio Wunderbar x wild — Der Podcast der Anne Frank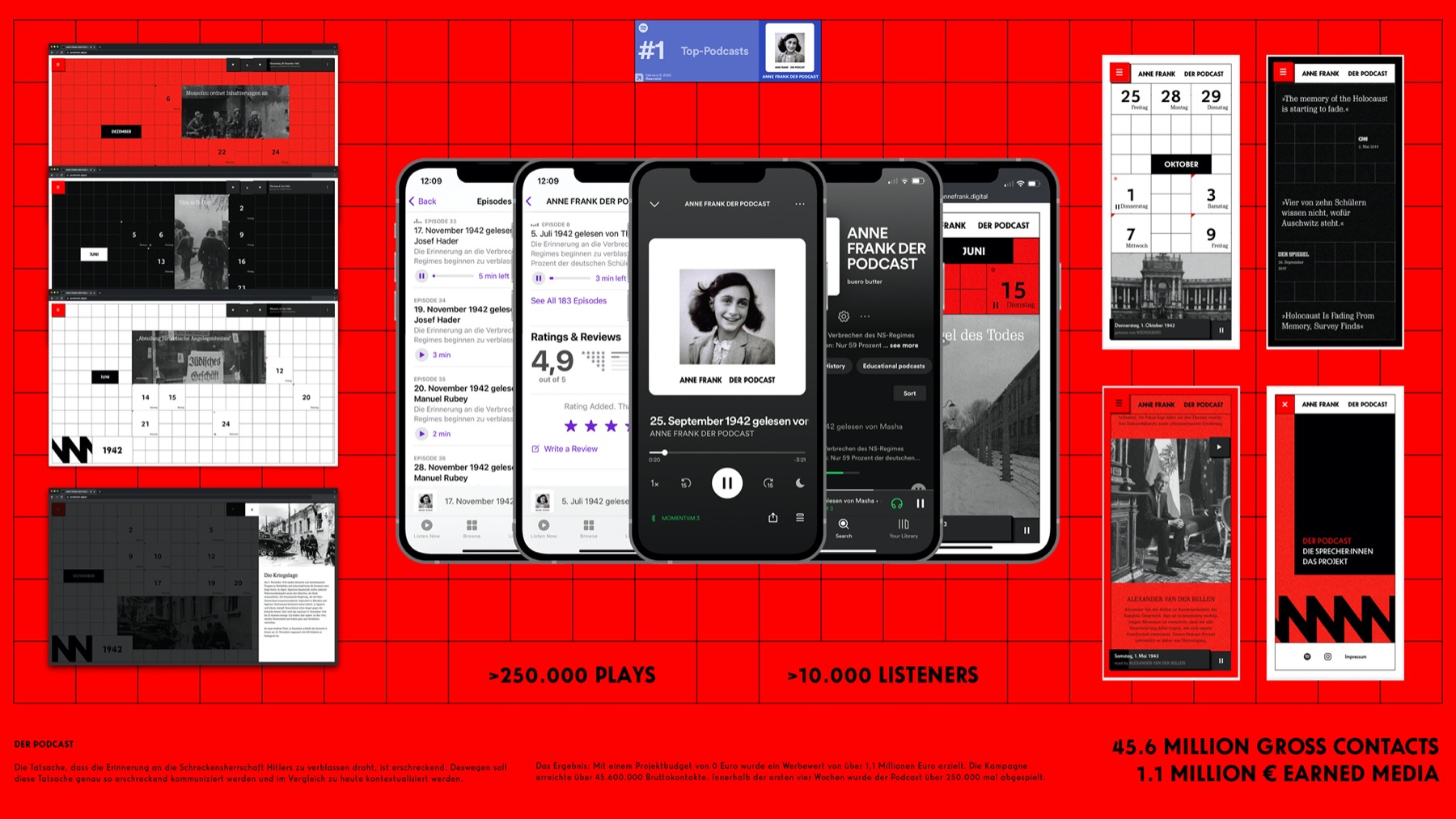 Kategorie:
Digital Craft
Auszeichnung:
Silber (2022)
Auftraggeber:
buero butter
To remember her story and make it available to a new generation through digital, we created an interactive timeline allowing the user to travel through history and follow along Anne Franks journey during these dark years.
Every page in her diary was recorded in the form of a podcast episode, read by an array of personalities including artists, politicians and influencers. Among them Austrian president Alexander Van Der Bellen, beloved author Thomas Brezina or news anchor Armin Wolf.
The result was an immersive journey speaking to both younger and older audiences through the power of storytelling.
Creative Lead:
buero butter, wild
Beteiligte Agenturen/Firmen:
Anna Soteropoulos, Anne Frank Fonds, Anne Hofmann, Con Evo, Influence Vision, Klasse für Ideen | Die Angewandte, Studio Wunderbar, Vielseitig ||| Kommunikation, wild
Geschäftsführung:
Matthias Bayr (buero butter), Christoph Liebentritt (buero butter), Stefan Leberer (buero butter), Max Schnürer (buero butter)
Creative Direction:
Max Schnürer (buero butter)
Art Direction:
Stefan Leberer (buero butter)
Grafik Design:
Stefan Leberer (buero butter)
Design:
Simone Glück (wild)
Fotografie:
Christoph Liebentritt (buero butter)
Mediaplanung:
Ina Lins
Musik:
Alex Wunderbar / Alexander Winkler (Studio Wunderbar)
PR:
Ina Lins
PR:
Valerie Besl (vielseitig ||| kommunikation)
Programmierung:
Edoardo Lunardi (wild), Omowunmi Sogunle (wild)
Technisches Konzept:
Lorenzo Migliorero (wild)
Projektmanagement:
Jennifer Steiner (wild)
Projektmanagement:
Katrin Qerreti (Constant Evolution)
Text:
Anna Soteropoulos
Fotografie:
Österreichische Nationalbibliothek
Sprecher:in:
Anne Hofmann
Sprecher:in:
Christoph Feurstein
Marketingleitung:
Ina Lins